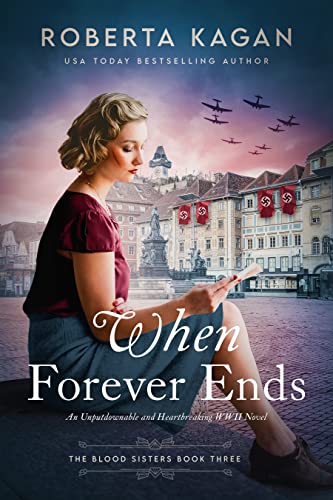 In a world filled with danger, heartbreak, and impossible choices, the blood sisters must navigate through the darkness to find love, redemption, and a chance at survival.
Anna has found solace and love in the colorful Romany camp. How long will this last under the watchful eye of a spurned and obsessed Nazi?
In the unrelenting grimness of Ravensbrück, Moriah is caught in the web of Dagna's deadly ambition and schemes. Her chances for survival diminish with every passing moment.
Shunned by society for the telling scar on her face, Elica struggles to live with the consequences of her selfish choices. Will she ever find love, redemption, or her son Theo, again?
In Mussolini's Italy, Mateo and Aria shower young Theo with love and affection. But love is a weakness in the fascist regime.
When Forever Ends is a fitting and unforgettable conclusion to Roberta Kagan's heartwrenching The Blood Sisters series.
Published:
June 7, 2023
Genres: