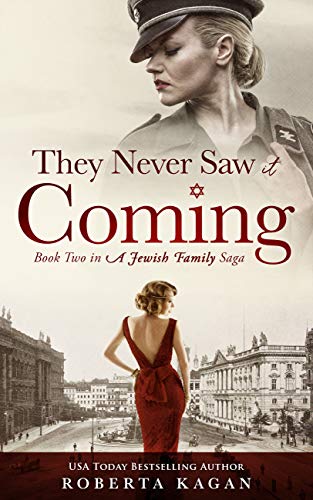 Goldie Schatzman is nearing forty, but she is behaving like a reckless teenager, and every day she is descending deeper into a dark web.
Since her return home to Berlin, she has reconnected with her childhood friend, Leni, a free spirit who has swept Goldie into the Weimar lifestyle that is overflowing with artists and writers, but also with debauchery. Goldie had spent the last nineteen years living a dull life with a spiritless husband. And now she has been set free, completely abandoning any sense of morals she once had.
As Goldie's daughter, Alma, is coming of marriageable age, her grandparents are determined to find her a suitable match. But will Goldie's life of depravity hurt Alma's chances to find a Jewish husband from a good family? And all the while the SA, a preclude to the Nazi SS, is gaining strength.
Germany is a hotbed of political unrest.
Leaving a nightclub one night, Goldie finds herself caught in the middle of a demonstration that has turned violent. She is rescued by Felix, a member of the SA, who is immediately charmed by her blonde hair and Aryan appearance. Goldie is living a lie, and her secrets are bound to catch up with her. A girl, who she'd scorned in the past, is now a proud member of the Nazi Party and still carries a deep-seated vendetta against Goldie.
On the other side of the Atlantic, Sam, Goldie's son, is thriving with the Jewish mob in Manhattan; however, he has made a terrible mistake. He has destroyed the trust of the woman he believes is his bashert. He knows he cannot live without her, and he is desperately trying to find a way to win her heart. And Izzy, the man who Sam once called his best friend, is now his worst enemy. They are both in love with the same woman, and the competition between them could easily result in death.
Then Sam receives word that something has happened in Germany, and he must accompany his father on a journey across the ocean. He is afraid that if he leaves before his beloved accepts his proposal, he might lose her forever.
Published:
October 25, 2020
Genres: